"If the Halloween town of Tim Burton's 'The Nightmare Before Christmas' had a resident keyboardist, it would be Kristen Lawrence."
- Keyboard Magazine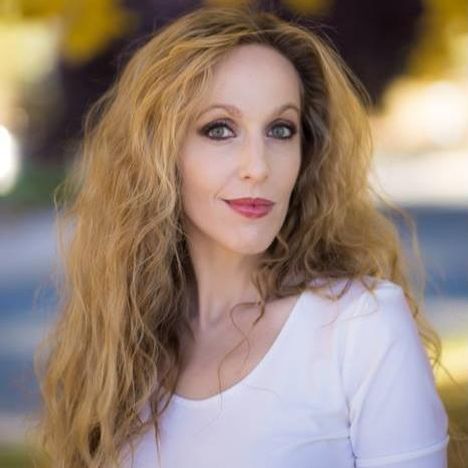 KRISTEN LAWRENCE
Organist, Composer, Vocalist, Lyricist
Classically trained pipe organist Kristen Lawrence has been called the Queen of Halloween for writing and producing elegant, fun, and melodic music for the Halloween season—but enjoyed all year by fans.  
Rue Morgue Magazine's music editor described Lawrence's music this way: "With sweeping string arrangements, handsome lyrics and layers of her own graceful voice, Lawrence spins ethereal tales with a balance of macabre elements and kid-friendly whimsy ... that give her creations an instantly classic, fun-for-all-ages feel."
Lawrence's music and lyrics are unique and eclectic, colored by the diversified influences of Bach, Tori Amos, Loreena McKennitt, Elfman & Bartek, Ralph Vaughan Williams, and Nightwish. Kristen incorporates these folk, classical, and rock genres to create her Halloween Carols.™  If Christmas has its carols, why not Halloween!
In addition to her original compositions, Lawrence has researched traditional folk songs and arranged them for organ.  Her two versions of the English "Souling Song" are based on the older roots of Halloween traditions—one from pagan Samhain and the other from the Christian tradition of soul cakes that evolved into trick-or-treating.  Her two versions of the American folk tune "Ghost of John" are loved by kids and their parents who sang it in grade school. Because of this research, Kristen was asked to write about the music of Halloween for Halloween history expert Lesley Bannatyne's book, Halloween Nation: Behind the Scenes of America's Fright Night.
An accomplished musician, she has been guest organist for Halloween Spooktaculars as well as many of Pacific Symphony's family programs, writing an accompanying Jurassic Park organ score for their Dinosaurs! program to highlight the 4322-pipe "monster" concert organ. Kristen was also commissioned to compose organ music to accompany the Lon Chaney silent film classic, Phantom of the Opera, playing her counterpointed themes live on the oldest pipe organ in Orange County. Her musical setting of Edgar Allan Poe's "The Raven" for strings and organ reflects her serious analysis of Poe's famous poem and has been called "exquisite" by Poe scholars. It has been featured for the National Endowment of the Arts' THE BIG READ: Short Stories and Poetry of Edgar Allan Poe.  
A Keyboard Magazine review, reporting about Lawrence's elegant use of pipe organ, harpsichord, piano, and vocals in her Halloween carols, foretold a spooky coincidence by stating, "If the Halloween Town of Tim Burton's The Nightmare Before Christmashad a resident keyboardist, it would be Kristen Lawrence." Who would have guessed that the planets would align so that Steve Bartek—orchestrator for Nightmare and other Danny Elfman film music—would be playing guitar with Kristen's latest music projects! Spooky good, indeed!
Some of these most recent songs show the "rock" side of Kristen, and feature special guest performers Steve Bartek (Danny Elfman, Oingo Boingo), John Avila (Oingo Boingo), Jeff Friedl (Devo, A Perfect Circle), MB Gordy (Doobie Brothers), Monte Pittman (Madonna) and other magical musicians.
Albums:
 Hallowe'en: Night of Spirits (2018)
 Edgar Allan Poe's "The Raven" (2012) 
 A Broom With A View, From The Halloween Carols™ (2009)
 Vampire Empire, Radio Edits From The Halloween Carols™ (2009)
 Arachnitect, From The Halloween Carols™ (2008)
Singles: 
Witch of the Salem Town (2019)
 Zombie Ambience (2015) 
 Zombie Ambience—"Zombies Around Steve Bartek"(2015) 
Zombie Ambience—"Quick Bite" radio edit (2015) 
Gust—"Crossroads" version (2015)
Gust—"Ghost Town" version  (2015) 
MEDIA 
Wikipedia 
Newspapers & Magazines 
WHAT OTHERS ARE SAYING ABOUT  KRISTEN'S MUSIC 
"With sweeping string arrangements, handsome lyrics and layers of her own graceful voice, Lawrence spins ethereal tales with a balance of macabre elements and kid-friendly whimsy ... that give her creations an instantly classic, fun-for-all-ages feel." — Trevor Tuminski, Music Editor, Rue Morgue Magazine                
"Absolutely taken with it.  Love, love, love the CD.  I hope it is a collection in a series.  The idea of 'Halloween Carols' is wonderful.  This is good music." — "The Steve & Johnnie Show" WGN Radio, 720 AM, Chicago 
"An interesting, intriguing and fascinating listen.  An absolute must for Halloween."   — Maxim Eshkenazy, Assistant Conductor, Pacific Symphony 
"I love it and think it is remarkably fresh and original – the pieces could be movie scores. Grown-ups who have loved this holiday from afar can come out ofthe woods because we finally have elegant Halloween music all ages can enjoy."  — Kieth Merrill, Academy-Award winning filmmaker 
"This is the most unique Halloween music I have ever heard!  These Halloween Carols are nothing less than fantastic.  This music will appeal to all ages from small children to seniors.  Brace yourself for when you first listen.  These songs are not at all what you expect.  Great music with amazing vocals.  You will catch yourself playing these tunes over and over.  Great for Halloween parties."  — Larry McKenzie, The Halloween Network
"If you love gorgeous, ethereal female vocals... Pipe organ makes you hot... You're a grown up Goth who wants something a little more lighthearted, yet appropriate... The CDs of Halloween sounds from Target isn't going to cut it for your party this year.  Let me introduce you to Kristen Lawrence."
"Rather than the usually disappointing 'Halloween Dance Party Music' CDs one finds at the local Halloween store (filled with sub-par versions of 'Monster Mash' and 'Purple People Eater'), Lawrence gives Halloween lovers a new music tradition. Her Halloween carols (each in four-part carol/hymn style) are influenced by the deep history and culture behind All Hallows Eve."
"It's an alluring mix between a pipe organ in the most haunted of houses and wicked classical music.  The unique music appeals to all those who love Halloween, fancy the dark side a bit, and are enchanted by classical counterpoint music and ethereal voices."
 "I am a photographer and I love the 'visuals' I get when I listen to this.  With the track 'Flappy Bat,' close your eyes and you can see one making its way through a dark and windy landscape."
Samples of Kristen's Music
Kristen wrote four new verses for the traditional American tune "Ghost of John" in a "Bare Bones" version for voices and organ.  
One fan commented, "When we were in grade school we sang a version of this song every year around Halloween. It has never left me, and finding this song has been an absolutely wonderful experience!"
"Witch of the Salem Town" is Kristen's version of the old English folk tune "Kingsfold," which later inspired the Irish "Star of the County Down" song.
With Monte Pittman (Madonna) on guitars/bass and grammy winning MB Gordy on percussion, Kristen's pipe organ and vocals tell the tale of a fictitious Irish immigrant who arrived in Salem, Massachusetts in 1692 - the year of the terrible Salem witch trials. Accused and sentenced to death, Agnes keeps her mind and strength to her last breath, living by the mantra of her immigrant ship's name, Go True. The song ends with a powerful slip jig, symbolizing Agnes in her final mortal moments on the noose (see: Tyburn jig) ... and coming back as a ghost from the other side.